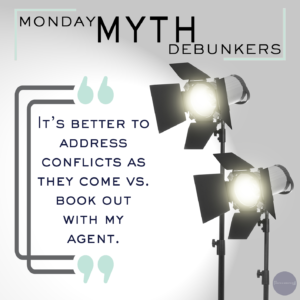 No conflicts are better than any conflicts, right?
Well, technically, sure.
But there's a worse situation to be in. It's the scenario that CDs, reps & actors alike all dread. 
That moment when your agent calls to pin you and —
😳😳😳
You have plans. Like, BIG unchangeable plans… right during that shooting period. 
𝑮𝒖𝒍𝒑.
Gulp is right. To give you an idea, here's a little sample of what can happen if you're picked as the choice for a role and you're suddenly not available:
◾️ You have to tell your agent who is going to be less than thrilled.
◾️ Your agent is going to have to tell US who is going be even LESS thrilled.
◾️ We then have to go BACK to our creative team and ask if maybe (hopefully) there is someone else they liked as a backup.
◾️ Begrudgingly (and usually accompanied by peeved commentary) they might pick someone. Or they don't and…
◾️ We have to go back to the drawing board and potentially READ more people, setting us back another day.
◾️ We then have to send new choices to our producers and hope they make a fast decision because we've just lost more (precious) time.
◾️ We have to explain what happened to our studio and network executives and hope for another round of (quick) approvals.
◾️ We feel frustrated by an easily avoidable situation and the door of "distrust" has now been opened.
…all when you could have just booked out. 
YIKES. 
To sum up: 
𝕡𝕝𝕖𝕒𝕤𝕖 𝕡𝕝𝕖𝕒𝕤𝕖 𝕡𝕝𝕖𝕒𝕤𝕖, 𝕓𝕠𝕠𝕜 𝕠𝕦𝕥 𝕠𝕟 𝕥𝕙𝕖 𝕕𝕒𝕪𝕤 𝕪𝕠𝕦 𝕜𝕟𝕠𝕨 𝕪𝕠𝕦 𝕔𝕒𝕟'𝕥 𝕘𝕖𝕥 𝕠𝕦𝕥 𝕠𝕗.
YES, emergencies happen. YES, you can suddenly book something the minute you found out you were pinned. 
These are all things we know, understand, and are used to. 
The best thing you can constantly do for yourself, for your reps, and for US is to constantly communicate. 
The minute you commit to doing your buddy's short film, tell your reps. The minute you book a trip or find out about an important event, tell your reps (and ps. please don't feel guilty about it—you DESERVE time off. Truly.)
There are many, many, many times that with enough notice, we CAN work out a day or 2 conflict. And that notice, we can be respectful of everyone's time by letting our creative team know of conflicts as they view auditions. That way, if they choose someone who has a 2-day conflict, they already know what they are signing up for. 
There will be times when certain opportunities are missed because of prior commitments. 
𝐀𝐧𝐝 𝐭𝐡𝐚𝐭'𝐬 𝐨𝐤.
Take a breath. Book out. 𝐀𝐧𝐝 𝐭𝐫𝐮𝐬𝐭 𝐥𝐢𝐟𝐞'𝐬 𝐭𝐢𝐦𝐢𝐧𝐠.
#themoreyouknow #TheCastingDirectorsCut #mondaymythdebunkers