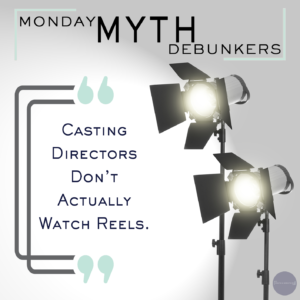 If there was a prize for the biggest #mythdebunker, it would go to this one. 
Nothing could be further from the truth. And here's the why…
If you didn't already know: casting is a LOT of work. 
Between the speedy expectations of casting, the multiple projects on our plate, we have to efficiently allot time for: producer sessions, emails, avail checks, breakdowns, script reading, generals, budget crunching, submission reviewing, list-making, reel editing, pitch calls, concept meetings, studio/network calls, director calls, sides pulling, production meetings, appointment sending, self-tape watching, producer pitch emailing, deal negotiating, cast list creating, schedule juggling, deal memo typing, contract making, SAG clearing, agent/manager emails, status report updating, and oh yeah… auditions. 😳
For episodic, most of these tasks must be completed within an 8-day span. It's why 10-12 hour workdays are not uncommon in the casting world. 
In order to be efficient with our time, we need us some "low-risk actors." In order to achieve that, we need to be able to see an actor's ability before we bring them in. 
And that is what your reel is for. 
𝗬𝗼𝘂𝗿 𝗿𝗲𝗲𝗹'𝘀 𝗽𝘂𝗿𝗽𝗼𝘀𝗲 𝗶𝘀 𝘁𝗼 𝘀𝗵𝗼𝘄 𝘂𝘀 𝘄𝗵𝗮𝘁 𝘆𝗼𝘂 𝗮𝗿𝗲 𝗰𝗮𝗽𝗮𝗯𝗹𝗲 𝗼𝗳 𝗮𝘀 𝗮𝗻 𝗮𝗰𝘁𝗼𝗿.
If you feel stuck in your career. If you feel as if you're making strides in class but not seeing any other traction, read that sentence above one more time.
If YOU as an actor are at a certain level, but your reel is 5 notches below that, then, #houstonwehaveaproblem
𝙐𝙣𝙡𝙚𝙨𝙨 𝙬𝙚 𝙥𝙚𝙧𝙨𝙤𝙣𝙖𝙡𝙡𝙮 𝙠𝙣𝙤𝙬 𝙮𝙤𝙪 𝙖𝙣𝙙 𝙮𝙤𝙪𝙧 𝙖𝙗𝙞𝙡𝙞𝙩𝙞𝙚𝙨, 𝙮𝙤𝙪 𝙖𝙧𝙚 𝙤𝙣𝙡𝙮 𝙜𝙤𝙞𝙣𝙜 𝙩𝙤 𝙗𝙚 𝙖𝙨 𝙜𝙤𝙤𝙙 𝙖𝙨 𝙮𝙤𝙪𝙧 𝙧𝙚𝙚𝙡.
But wait! There's GOOD NEWS! 
There ARE actionable things you can do to get your reel up to YOUR level! 
𝗬𝗼𝘂 𝗵𝗮𝘃𝗲 𝘁𝗵𝗲 𝗮𝗯𝗶𝗹𝗶𝘁𝘆 𝘁𝗼 𝘁𝗮𝗸𝗲 𝗰𝗼𝗻𝘁𝗿𝗼𝗹 𝗼𝗳 𝘆𝗼𝘂𝗿 𝗿𝗲𝗲𝗹 𝗮𝗻𝗱 𝘆𝗼𝘂𝗿 𝗰𝗮𝗿𝗲𝗲𝗿.
Our donation-based reels class went over all of these methods + more. If you missed it, check it out below! 👀
#themoreyouknow #TheCastingDirectorsCut @mondaymythedebunkers