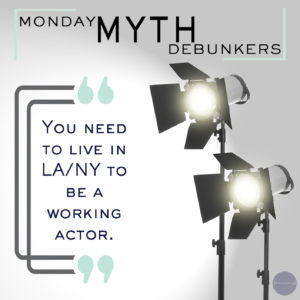 We'll just jump right in with a big, fat NOPE!⁠
Let's start with this fun fact: In 2016, Georgia overtook California as the state location with the most feature films produced 🤯 ⁠
Productions have been venturing out of LA/NY for years and it's mostly due to the tax rebates and lower costs of shooting. The film/TV world has been surging (during the non-Covid world) in places like New Orleans, Atlanta, New Mexico, and Austin. ⁠
Let's sweeten the deal with the fact that self-taping is becoming more and more normal & prevalent in our casting process. As long as there is CLEAR communication between rep & casting office that you can 100% be a local hire in LA/NY, then usually (if you're right for it), you won't have any trouble getting a self-tape audition. And many times, the role that we've been auditioning for DAYS in LA will go to that one self-taped actor from across the country! ⁠
Disclaimer: there will likely be less of an inclination to fly actors from different regions in the newly post-Covid industry. ⁠
But that doesn't mean the rate of "out-of-town" productions will go down. ⁠
𝕐𝕠𝕦 𝕔𝕒𝕟 𝕤𝕥𝕚𝕝𝕝 𝕓𝕖 𝕒 𝕙𝕒𝕡𝕡𝕪, 𝕨𝕠𝕣𝕜𝕚𝕟𝕘 𝕒𝕔𝕥𝕠𝕣 𝕠𝕦𝕥𝕤𝕚𝕕𝕖 𝕠𝕗 𝕃𝔸/ℕ𝕐.⁠
When deciding on where to call home base, it's important to (first and foremost), consider which place makes you a happy person. ⁠
Want to move back to Chandler to be closer to family? Go for it!⁠
Moving to Charlotte for a spouse's job? You can still be an actor!⁠
PSA: You are a human first and an actor second. ⁠
We are a global world and technology is being embraced now more than ever. ⁠
So if you've been debating on the move out of fear of opportunity? Pack a bag, friend (and be safe when traveling!) Communication with your reps and some top-notch self-tape skills are amongst the top things you'll want to pack in that suitcase. ⁠
See you on Ecocast! 👋⁠
#themoreyouknow #TheCastingDirectorsCut #mondaymythdebunkers