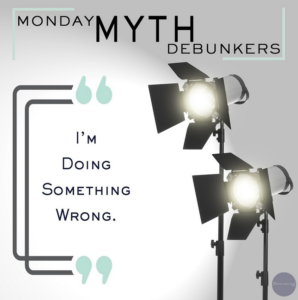 🛑🛑🛑 𝗙𝗨𝗟𝗟 𝗦𝗧𝗢𝗣 🛑🛑🛑
You ready for this one?
As much as you want to think you are "doing something wrong" in your acting career, 𝘺𝘰𝘶 𝘱𝘳𝘰𝘣𝘢𝘣𝘭𝘺 𝘢𝘳𝘦𝘯'𝘵.
That's not to say there ISN'T room to grow and learn and make choices that yield better results…
But that overwhelming thought that creeps in late at night… the one that is extra loud when you find out the new girl in acting class just booked a TOS guest star role and you've lived in LA 5 years longer than her? The thought that makes you think: something is wrong with me? 𝘛𝘩𝘢𝘵 𝘵𝘩𝘰𝘶𝘨𝘩𝘵 𝘪𝘴 𝘯𝘰𝘵𝘩𝘪𝘯𝘨 𝘣𝘶𝘵 𝘢 𝘭𝘪𝘢𝘳. And an annoying one.
For the sake of this argument, let's compare acting with losing weight.
What do you have to do to lose weight?
Eat healthy food and exercise, of course.
Are there contraptions and pills and programs and coaches to help you lose that weight? Sure.
But eating healthy and exercising will also do the job. It's pretty much guaranteed.
But you're not going to see results unless you ACTUALLY eat healthy and ACTUALLY exercise.
And for most, this is why people don't ultimately meet the goals they wish to meet.
𝕋𝕙𝕖 𝕤𝕒𝕞𝕖 𝕘𝕠𝕖𝕤 𝕗𝕠𝕣 𝕒𝕔𝕥𝕚𝕟𝕘.
Are you spending time updating your website, networking, perfecting your slate shot, updating your newsletter but NOT spending those hours training and becoming the BEST actor you possibly can be?
Well then you're probably taking the "diet pill" and not actually going on the diet.
See what we did there?
You are not doing anything 𝘸𝘳𝘰𝘯𝘨. It's about figuring out how and where to spend your focus and energy.
Feeling stuck? Train more. Figure what works 𝘣𝘦𝘵𝘵𝘦𝘳. 𝘼𝙣𝙙 𝙢𝙖𝙠𝙚 𝙨𝙪𝙧𝙚 𝙮𝙤𝙪𝙧 𝙢𝙖𝙩𝙚𝙧𝙞𝙖𝙡𝙨 𝙧𝙚𝙛𝙡𝙚𝙘𝙩 𝙮𝙤𝙪 𝙩𝙤 𝙩𝙝𝙚 𝙗𝙚𝙨𝙩 𝙤𝙛 𝙮𝙤𝙪𝙧 𝙖𝙗𝙞𝙡𝙞𝙩𝙮.
Chances are one of those two things could be improved and that does not mean the industry is against you (actors: please, please read that again 👆 when you are feeling discouraged)
Instead of thinking you're doing something wrong, ask yourself which area needs your attention most—and focus more on 𝘵𝘩𝘢𝘵.
#themoreyouknow #thecastingdirectorscut #mondaymythdebunker #actorlife