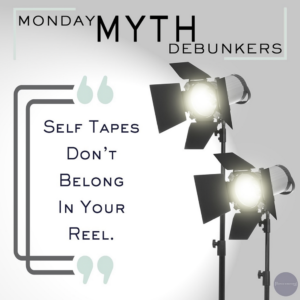 Buckle up for this one folks… because we feel strongly that this is nothing but a grade-A #myth.
First of all, regardless of what anyone tells you, there are no rules when it comes to your demo reel.
CSA and SAG-AFTRA do NOT have a set rules as to what can and cannot be in your demo reel. 𝘗𝘪𝘯𝘬𝘺 𝘱𝘳𝘰𝘮𝘪𝘴𝘦.
There is no "list" that CDs have come up with that they adhere to when watching your reel.
Anyone who says you cannot put a self tape in your reel is speaking from their own opinion—not from a rule book.
Now—let's break down the if/when scenario for when a self tape addition might be the right choice for you.
But first, consider this:
CDs have a boatload of submissions and pitches to get through. A really big boatload.
We need to be efficient with our time.
If you have a demo reel on your AA profile + some other self tapes as supplemental material, that's fine.
But what's the likelihood those self tapes will get clicked on if they are not in your reel?
About as likely as Ikea having everything in stock that you're looking for.
AKA: slim to none.
So if your reel is lacking and not showing us what you're capable of, don't expect us to then look at your other clips for back-up material.
If it's not in your reel, 𝘆𝗼𝘂𝗿 𝘄𝗼𝗿𝘁𝗵𝘆 𝘁𝗮𝗹𝗲𝗻𝘁 𝗰𝗼𝘂𝗹𝗱 𝗯𝗲 𝗴𝗲𝘁𝘁𝗶𝗻𝗴 𝗺𝗶𝘀𝘀𝗲𝗱.
This is not to say everyone needs to supplement their reel with a well-done self tape.
But if the footage you've booked isn't serving you, you're going to feel all sorts of stuck.
The only actual rules that you need to abide by are:
1. You cannot use a recent audition or a self tape where you cannot confirm whether the project has aired and/or premiered (unless you get written director/producer permission)
2. Not necessarily a rule… but when choosing material, best to not choose anything that's too iconic or overly recognizable. Please don't do the Leo D monologue from Wolf of Wall Street, for example 😉
This industry is tough as it is. Don't let the endless supply of circulating "rules" dim your light.
𝕁𝕦𝕤𝕥 𝕝𝕖𝕥 𝕦𝕤 𝕤𝕖𝕖 𝕪𝕠𝕦𝕣 𝕘𝕣𝕖𝕒𝕥𝕟𝕖𝕤𝕤.
#themoreyouknow #thecastingdirectorscut #mondaymythdebunker #actorslife