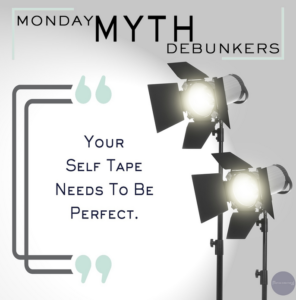 You flubbed a line. Your reader didn't pick up that cue fast enough. Your dog barked. ⁠
⁠
𝘚𝘦𝘭𝘧 𝘵𝘢𝘱𝘪𝘯𝘨 𝘪𝘴 𝘵𝘳𝘪𝘤𝘬𝘺.⁠
⁠
And we know that. ⁠
⁠
This is your reminder that we are not looking for perfection. ⁠
⁠
In fact, we've never sought perfection!⁠
⁠
And that's because it's impossible, especially for an audition. ⁠
⁠
Even in the room, if you flubbed a line but the intention was spot on? We're probably not going to mess with it. ⁠
⁠
If you find yourself doing 5+ takes, think again. ⁠
⁠
𝙍𝙚𝙢𝙞𝙣𝙙 𝙮𝙤𝙪𝙧𝙨𝙚𝙡𝙛 𝙬𝙝𝙖𝙩 𝙢𝙖𝙩𝙩𝙚𝙧𝙨 𝙢𝙤𝙨𝙩.⁠
⁠
If your dog barked but it was your best take, don't re-tape it. ⁠
⁠
If you spoke over your reader but the moment was saved, and it was a great take, don't re-tape it. ⁠
If you accidentally (lightly) kicked your computer stand but you felt the most connected to the scene, please, 𝙙𝙤𝙣'𝙩 𝙧𝙚-𝙩𝙖𝙥𝙚 𝙞𝙩. ⁠
⁠
There is grace in this process. ⁠
⁠
And we are not looking for perfection. ⁠
⁠
When deciding which take(s) to send us, focus on the acting.⁠
⁠
Trust that we can see past the technical and that we don't hold them against you. ⁠
⁠
All we ask is that you try your best.⁠
⁠
#themoreyouknow #mondaymythdebunker #thecastingdirectorscut #actorlife