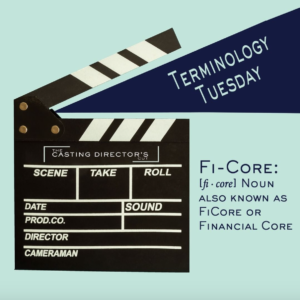 Fi-Core stands for 'financial core'.
This status is an option within (SAG-AFTRA) which allows actors to work both union and non-union jobs. There are some disadvantages to being Fi-Core. Most notably, you become a "non-member" in SAG-AFTRA's estimation. Technically, they categorize you as a Fee Paying Non-Member (FPNM), but since you still pay your dues, you have a valid performer number, retain your benefits and are represented in all collective bargaining activities.
Some of the rights you lose when you declare Fi-Core are: the right to vote in SAG-AFTRA elections, the right to hold office in the Union, the right to use iActor (a SAG web service), the right to participate in Union events such as workshops, networking events and screenings. You will no longer receive screeners of SAG Award nominated films or vote for nominees (although you can be nominated, you cannot attend the event), you will no longer receive a SAG-AFTRA card (your most recent dues receipt becomes your proof of current representation) and you will not be able to re-join the Guild without a formal hearing and applicable penalties.