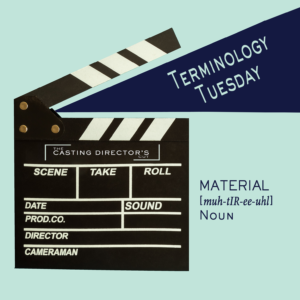 Your materials consist of your 3 main actor tools: your headshot, your resume & your reel. So when someone asks you for your materials, that's what they mean. 
We've talked a lot about headshots and reels already, so let's dive more specifically into resumes today. 
The purpose of your resume is to tell us your experience, training & skill set. That's it!
We're gotten to be pretty good at reading them quickly. And because of that, it's helpful if YOU make it easy for us to read & understand. 
Couple of quick things you DON'T need on your resume:
⓵ Another headshot. Because well, just turn it over and… ta-da!
⓶ Long written out URL links. It's not clickable, so don't bother
Couple quick things you CAN do:
⓵ Update your resume in pen! IT'S FINE. Trust. We'd rather you write something in last minute than waste paper for ONE additional credit. 
⓶ Staple your headshot to your resume. Again. IT'S FINE. And saves you so much time/money & paper. 
FORMATTING:
📝 You should separate categories by type pf project: Film, TV, New Media & Theatre (in that order)
📝 Credits should be listed in 3 side-by-side columns 
📝 For TV/New Media, use terms like co-star, guest star, recurring co-star, recurring guest star & series regular
📝 For film, use terms like lead or supporting
📝 TV/New Media Example: Happy Endings, Guest Star, ABC
📝 Film Example: Spiderman, Supporting, Dir: Marc Webb/Sony
📝 Theatre Example: Book of Mormon, Elder Price, National Tour
📝 Training should list type of class (i.e. scene study, improv), the teacher, and then the studio
📝 Theatre is the only genre where you can & should list the actual name of your role. 
DON'T FORGET:
📝 Union status. (TIP: If you're SAG-E, don't write non-union. These are very different things. We know SAG-E means you can also do non-union work so just leave it at that). PLEASE BE TRUTHFUL HERE. 
📝 Passport status. Having a valid passport is incredibly helpful knowledge for out-of-country shows. 
📝 Stats. Most importantly: your height. (TIP: don't worry about your height working against you. There's no "right" height. We just need to know for logistics with other actors. Just be truthful!)
📝 Special skills. Don't just rattle off a bunch of words you think we want to see. Things like specific languages, accents, handling firearms, horseback riding, dance, singing, could all come in handy for the right job. Being able to unwrap a Starburst with your tongue is cool & all, but it won't actually get you an audition. 
Check out our blog (link in bio) for a resume example. 
Which of your materials have you been working on lately?
#themoreyouknow #TheCastingDirectorsCut #terminologytuesday