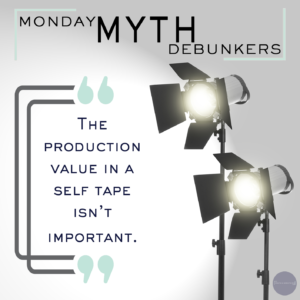 Buckle up, today's #mondaymythdebunker is a controversial one!
Member the good old days when you'd walk into a casting office and the room was equipped with everything needed to achieve the perfectly recorded tape?
Well (currently) we've traded in-person auditioning with self taping/virtual casting so in a sense, we've passed the producing torch to you.
That's right—in the land of self tapes 𝚢𝚘𝚞 𝚊𝚛𝚎 𝚝𝚑𝚎 𝚊𝚌𝚝𝚘𝚛, 𝚝𝚑𝚎 𝚍𝚒𝚛𝚎𝚌𝚝𝚘𝚛, 𝚊𝚗𝚍 𝚝𝚑𝚎 𝚙𝚛𝚘𝚍𝚞𝚌𝚎𝚛.
𝘎𝘶𝘭𝘱.
We know it's a lot.
And we are trying to give you as much information as we can to set yourself up for success (ps. reading = knowledge and knowledge = power).
But there are a few key things you should know:
YES the acting is (above & beyond) the most important aspect of a self tape—but if there are missed moments, missed beats, missed reactions—simply because we can't hear you or we can't see the magic happening behind your eyes?
𝕀𝕥 𝕔𝕒𝕟 𝕖𝕗𝕗𝕖𝕔𝕥 𝕥𝕙𝕖 𝕠𝕦𝕥𝕔𝕠𝕞𝕖 𝕠𝕗 𝕪𝕠𝕦𝕣 𝕒𝕦𝕕𝕚𝕥𝕚𝕠𝕟..
In the casting world, these moments are crucial. 𝘊𝘳𝘶𝘤𝘪𝘢𝘭!
Don't give us or anyone else with decision-making power an opportunity to miss a moment that would have given you a pin or a booking.
NO you do not need to spend a large amount of money on your self tape set up.
But you DO need to put intentional thought into your set up to ensure crucial moments are not getting missed.
This includes:
1. Making sure your face (especially your eyes) are well lit by a light source that is in front of you (not above you or behind you).
2. Making sure your background is not distracting in any way (there should be nothing besides YOU in the frame).
3. Making sure your voice is CLEAR and not overpowered by the reader ($15 mics on Amazon fix this problem instantly. They connect right to your phone).
4. Making sure your recording device does not go out of focus and that the lens is CLEAN.
5. Making sure the framing is TIGHT enough. A standard self tape frame should be in medium close-up (just below the shoulders) and can be tighter on more emotional moments.
If you're wondering when the best time is to perfect your self tape set-up, the answer is… 𝟭𝟬 𝗺𝗼𝗻𝘁𝗵𝘀 𝗮𝗴𝗼 🙃
All of these items are incredibly affordable and most (with the exception of a $15 mic) can be found around your home.
𝔻𝕠𝕟'𝕥 𝕝𝕖𝕥 𝕞𝕠𝕞𝕖𝕟𝕥𝕤 𝕘𝕠 𝕞𝕚𝕤𝕤𝕖𝕕 𝕓𝕖𝕔𝕒𝕦𝕤𝕖 𝕪𝕠𝕦𝕣 𝕡𝕣𝕠𝕕𝕦𝕔𝕥𝕚𝕠𝕟 𝕖𝕝𝕖𝕞𝕖𝕟𝕥𝕤 𝕒𝕣𝕖 𝕕𝕚𝕤𝕥𝕣𝕒𝕔𝕥𝕚𝕟𝕘.
If you want a more in-depth guide to some of our favorite self tape products, we put together an Amazon list of the items actors seem to love most. Just click on the book icon to the right of the IGTV icon.
#themoreyouknow #thecastingdirectorscut #mondaymythdebunker #actor