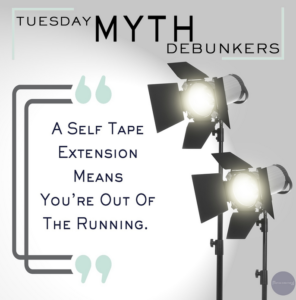 So the holidays have a us a little behind. We're switching things up and coming in with a TUESDAY Myth Debunker. We promise it'll be a good one 😇⁠
⁠
Double-tap if you've ever gotten a cmail notification only to be let down by another pesky self tape extension notice. ⁠
⁠
𝘛𝘩𝘦𝘯 𝘤𝘰𝘮𝘦𝘴 𝘵𝘩𝘦 𝘥𝘳𝘦𝘢𝘥.⁠
⁠

This was the audition you felt you nailed. ⁠
⁠
CLEARLY they must have extended the deadline because no one did it for them. ⁠
⁠
Right?⁠
⁠
Most likely… 𝗪𝗥𝗢𝗡𝗚.⁠
⁠
There are so many reasons why casting might extend a self tape deadline and it had nothing to do with your line fumble. ⁠
⁠
Here are a few reasons we might extend the deadline that have absolutely nothing to do with you:⁠
⁠
1. We didn't get as many tapes as we had hoped and just want to give more people a chance to tape.⁠
2. We decided to push our pitch to the creative team in hopes of including a few more choices.⁠
3. We're waiting on a few certain people to tape who were specifically requested by execs.⁠
4. A few people needed an extension so we had to open the Ecocast back up for them (creating a notification for all).⁠
5. The self tape request came close to a holiday and we decided to extend it to give people a little more time.⁠
⁠
None of this means you are 𝘯𝘰𝘵 being included in the selection we are including to our creative team. ⁠
⁠
And most importantly, 𝙣𝙤𝙣𝙚 𝙤𝙛 𝙩𝙝𝙞𝙨 𝙢𝙚𝙖𝙣𝙨 𝙮𝙤𝙪 𝙙𝙞𝙙 𝙖𝙣𝙮𝙩𝙝𝙞𝙣𝙜 𝙬𝙧𝙤𝙣𝙜. ⁠
⁠
It's just an extension. And most likely, some people needed more time and we haven't pitched yet so we gave it to them.⁠
⁠
If you feel you did good work, chances are, 𝘺𝘰𝘶 𝘥𝘪𝘥. ⁠
⁠
Trust that, trust us, and trust the process.⁠
⁠
#themoreyouknow #tuesdaymythdebunker #mondaymythdebunker #thecastingdirectorscut #actorlife