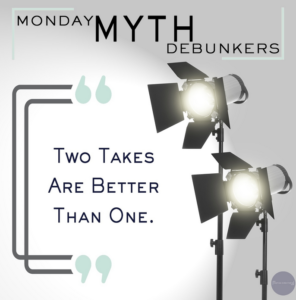 When in doubt, send 2 takes, right?⁠
⁠
We've covered this topic before but it felt time for a little refresh ✨⁠
⁠
To start off, you should always default to the instructions given to you by the casting office. ⁠
⁠
If they ask for 2 takes, give them 2 takes. ⁠
⁠
If the role is a one-liner, a general rule is that it is fine to send 2 𝘤𝘰𝘯𝘵𝘳𝘢𝘴𝘵𝘪𝘯𝘨 takes (mean 2 different choices).⁠
⁠
If the role is not a one-liner and you were not asked to send in 2 takes? 𝗥𝗲𝗮𝗱 𝗼𝘂𝗿 𝘁𝗵𝗼𝘂𝗴𝗵𝘁𝘀 𝗯𝗲𝗹𝗼𝘄👇⁠
⁠
Reminder that if your tape was requested, it's going to be watched in some capacity. ⁠
⁠
And if we think your read is along the lines of what we are looking for, we're going to watch both takes. ⁠
⁠
But when a scene is 3-4 minutes long and many actors are sending us multiple takes—this eats up a 𝙡𝙤𝙩 of time. ⁠
⁠
Especially when those multiple takes are edited into one file. ⁠
⁠
What happens if we think you're really right for a role but we know that your second take is likely the winner?⁠
⁠
We are either stuck having to edit out the first take 𝙤𝙧 if we are very short on time and already have 9 other selects we like, that very factor might be the thing that sways us into not sending your tape. ⁠
⁠
𝙀𝙚𝙠!!⁠
⁠
Actors, this is 𝙨𝙪𝙘𝙝 an easy circumstance to avoid:⁠
⁠
1. IF the casting office asks for multiple takes, please, upload them as separate files.⁠
2. If the casting office DOESN'T ask for multiple takes, use your #actorinstincts to choose your best take.⁠

3. If the role is a one-liner, send 2 𝘤𝘰𝘯𝘵𝘳𝘢𝘴𝘵𝘪𝘯𝘨 takes.⁠
⁠
The more you help us, 𝙩𝙝𝙚 𝙢𝙤𝙧𝙚 𝙬𝙚 𝙘𝙖𝙣 𝙝𝙚𝙡𝙥 𝙮𝙤𝙪.⁠
⁠
Remember: #sameteam⁠
⁠
#themoreyouknow #thecastingdirectorscut #mondaymythdebunker #workingactor