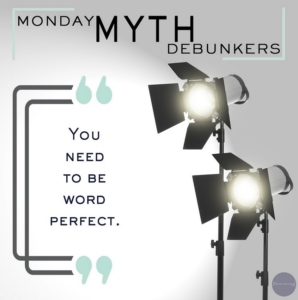 Today's #MondayMythDebunker is more of a "it depends."⁠
⁠
The short, go-to answer: 𝙖𝙘𝙩𝙞𝙣𝙜 > 𝙡𝙞𝙣𝙚 𝙥𝙚𝙧𝙛𝙚𝙘𝙩𝙞𝙤𝙣.⁠
⁠
HOWEVER⁠
⁠
There are some writers/showrunners/directors out there who like their lines to be spoken exactly as they are on the page. ⁠
⁠
And they notice. ⁠
⁠
Usually if this is the case, we know about it. And we'll do our best to relay this note ahead of time (hence why reading everything on your cmail audition is extremely important). ⁠
⁠
But what we don't want is for you to be thinking more about the lines than the thoughts of the character. ⁠
⁠
Absolutely do your best to be off-book (there are dozens of savvy tricks to help memorization be less of a chore. Check our blog for a post about some actor-favorites). ⁠
But once you're on your way to the audition, or sitting in the virtual waiting room, or minutes from self-taping – 𝘚𝘛𝘖𝘗 𝘛𝘏𝘐𝘕𝘒𝘐𝘕𝘎 𝘈𝘉𝘖𝘜𝘛 𝘛𝘏𝘌 𝘓𝘐𝘕𝘌𝘚. ⁠
⁠
Does that thought scare you?⁠
⁠
It shouldn't.⁠
⁠
Because you can ALWAYS have your sides in front of you. ⁠
⁠
So if you need to glance down for a moment, please, glance away!⁠
⁠
But don't get caught up in the lines. ⁠
⁠
Here's the thing to remember:⁠
⁠
If at that point, you realize you don't know the material as well as you would have liked, 𝘴𝘢𝘺𝘪𝘯𝘨 𝘵𝘩𝘦 𝘭𝘪𝘯𝘦𝘴 𝘱𝘦𝘳𝘧𝘦𝘤𝘵𝘭𝘺 𝘪𝘴𝘯'𝘵 𝘨𝘰𝘪𝘯𝘨 𝘵𝘰 𝘩𝘦𝘭𝘱 𝘺𝘰𝘶𝘳 𝘤𝘩𝘢𝘯𝘤𝘦𝘴. ⁠
⁠
Reacting authentically, knowing who you're talking to, raising the stakes, immersing yourself in the environment: these are all things you should prioritize once you're in the audition room. ⁠
⁠
TLDR version:⁠
⁠
Do your absolute best to as off-book as possible. ⁠
⁠
But once you're in your audition space, 𝕪𝕠𝕦𝕣 𝕛𝕠𝕓 𝕠𝕗 𝕜𝕟𝕠𝕨𝕚𝕟𝕘 𝕥𝕙𝕖 𝕝𝕚𝕟𝕖𝕤 𝕡𝕖𝕣𝕗𝕖𝕔𝕥𝕝𝕪 𝕔𝕠𝕞𝕖𝕤 𝕤𝕖𝕔𝕠𝕟𝕕. 𝔼𝕞𝕓𝕠𝕕𝕪𝕚𝕟𝕘 𝕥𝕙𝕖 𝕣𝕠𝕝𝕖 𝕚𝕤 𝕟𝕠𝕨 𝕗𝕚𝕣𝕤𝕥.⁠
⁠
#themoreyouknow #thecastingdirectorscut #mondaymythdebunker #actorlife