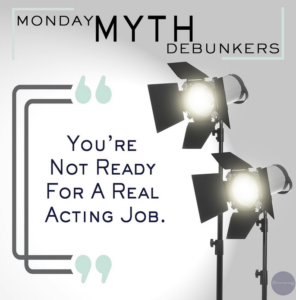 Oh, 𝙞𝙢𝙥𝙤𝙨𝙩𝙚𝙧 𝙨𝙮𝙣𝙙𝙧𝙤𝙢𝙚. Why do you always show up to a party you were never invited to?
Double-tap if you've ever felt the "I'm not ready for this" scaries.
𝗬𝗼𝘂'𝗿𝗲 𝗻𝗼𝘁 𝗮𝗹𝗼𝗻𝗲.
But member that word we say over and over again around here?
Yeah, it's about 𝘁𝗿𝘂𝘀𝘁 again.
It's easy to look around and see the endless talent around you.
What's hard is knowing that other people are doing the same, 𝙗𝙪𝙩 𝙩𝙝𝙚𝙮'𝙧𝙚 𝙡𝙤𝙤𝙠𝙞𝙣𝙜 𝙖𝙩 𝙮𝙤𝙪 𝙩𝙤𝙤.
Yes, you!
You 𝗖𝗔𝗡 do this!
You know why?
Because you're here, reading this. That means you care enough about your career that you've decided to stick around and soak in a little more information right now.
Because you've 𝘁𝗿𝗮𝗶𝗻𝗲𝗱 for this.
Because deep down, you know you can. 𝘼𝙣𝙙 𝙮𝙤𝙪 𝙠𝙣𝙤𝙬 𝙮𝙤𝙪 𝙬𝙞𝙡𝙡.
We believe you.
And more importantly, the people that hire you, really believe you.
Don't only trust yourself, but trust that you wouldn't be hired for this job if multiple people didn't believe you could handle it.
Not to toot our own horns, but we're good at our jobs.
𝘼𝙣𝙙 𝙨𝙤 𝙖𝙧𝙚 𝙮𝙤𝙪 🙃
#themoreyouknow #mondaymythdebunker #thecastingdirectorscut #actorslife