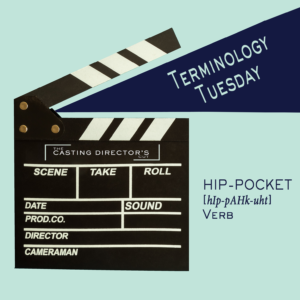 To piggyback off yesterday's post about agents, we wanted to talk about hip-pocketing. 
Hip-pocketing is the term that describes a relationship between an agent and an actor in which the agent agrees to send the actor out for opportunities without signing a formal contract. 
First, let's disclose that "hip-pocketing" is going to mean different things to different people. At its core, it means that you are not actually a client of the agency, but instead, someone they are keeping in their "pocket", just in case an opportunity should arise. Think of it as a "trial period" (for you too!) Usually the agent will pitch you to casting offices and if/when you book something, they then might want to formally sign you.
So if they like you, why wouldn't they just sign you in the first place?
There's a reason why hip-pocketing is more common at a company with more than one agent, and that's because all agents in the company (if it's a boutique agency) or all agents in that department (bigger agency) must agree on an actor they are going to sign. And sometimes they don't all agree.  
If an agent comes across an actor they believe to be really special and worth signing but can't get the other agents in their company/department on board, they might choose to hip pocket them. They'll (hopefully) pitch them to casting offices and once they finally get a booking, they can then bring that actor back to the team and pitch them again for representation. 
There are some pros & cons to being hip-pocked so you'll want to consider these should the opportunity arise. 
😃 PROS
‣‣ SOMEONE putting you out there is certainly better than NO ONE.
‣‣ Being hip-pocketed could very well lead to actual representation.
‣‣ You still have the ability to be signed by another agent (just be smart & respectful when discussing this with the one who is currently hip-pocketing you).
‣‣ You are not contracted to this person should you realize you're not vibing with them or their workflow.
😬 CONS
‣‣ Only that ONE agent at the company is putting you out there, not the department or company that normally would be in a more official agreement.
‣‣ They aren't able to actually SUBMIT you (usually); they can only pitch you to casting offices and TBD how good their pitching skills are.
‣‣ The agent hip-pocketing you will need to prioritize signed clients first so you won't have their full focus on submissions.
‣‣ An agent who's interested in signing you might not be jazzed that you're being hip-pocketed by someone else. You might find yourself in an unexpected mé·nage à trois.
Some advice to put in your back pocket (𝓈𝑒𝑒 𝓌𝒽𝒶𝓉 𝓌𝑒 𝒹𝒾𝒹 𝓉𝒽𝑒𝓇𝑒?):
‣‣ Don't write to an agent ASKING them to hip pocket you instead of (or as an alternative option to) fully representing you. You want them taking that 10% and working for it. Plus, it shows a tad lack of confidence, donchathink? Believe in your worth and the value you bring to that company. The right match will come along when the timing's right.
#themoreyouknow #TheCastingDirectorsCut #terminologytuesday