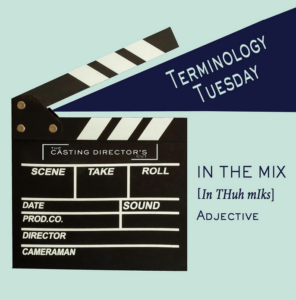 If you've heard these words before but haven't been exactly sure *what* it means, read on…
Being in the mix in itself is a pretty generalized term.
Essentially, it means you are being considered for the role and are likely part of a narrowed down short list.
That short list could be mean as little as 2 and as large as 12 actors.
If you're "strongly" in the mix, you'll likely already be pinned for the role. This suggests that you are part of a much shorter list.
Being in the mix could depend on a number of situations going on:
1. We loved your audition/self tape and we plan to send it to the creative team.
2. Your tape has been sent to the creative team and we are awaiting feedback.
3. The creative team has responded to your tape but they haven't narrowed down anything further yet.
4. We have an offer out on the role but if that actors passes or doesn't get approved, you are amongst the group of people we'd go to next.
𝕋𝕙𝕖 𝕦𝕟𝕜𝕟𝕠𝕨𝕟 𝕔𝕒𝕟 𝕓𝕖 𝕙𝕒𝕣𝕕 𝕒𝕟𝕕 𝕚𝕟𝕥𝕚𝕞𝕚𝕕𝕒𝕥𝕚𝕟𝕘.
But we'll always do our best to supply your agent with as much information as we can.
Being in the mix is a GOOD thing! It means you are doing the work and doing things 𝘳𝘪𝘨𝘩𝘵.
𝘞𝘩𝘺 you ultimately don't book the role is not an answer that will help you book the next job.
So keep on keepin' on and 𝘁𝗿𝘂𝘀𝘁, 𝘁𝗿𝘂𝘀𝘁, 𝘁𝗿𝘂𝘀𝘁.
#themoreyouknow #thecastingdirectorscut #terminologytuesday #actorslife