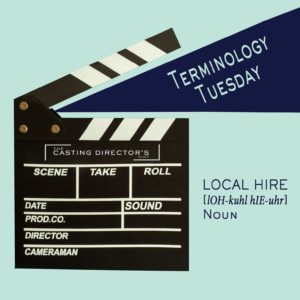 We thought this would be a good term to follow yesterday's #MondayMythDebunker. 
What exactly does it mean to be a local hire? A local hire means that you are able able to work in the shooting location without the need for travel expenses. If you consider yourself to be a local hire, it means you are willing to: fly yourself to the shooting location, put yourself up at a hotel or other residence, and get yourself to/from set without any reimbursement. 
Is it worth it? That's a question you'll want to ask yourself and your agent. If you have an offer for weekly scale but you have to be a local hire in another state, the cost of airfare, accommodations & rental car/Uber will have you barely come out even (Uncle Sam & agency fees are other contributing factors). But at the end of the day, it's important to prioritize what it is that you consider valuable to your career. Will this job be your first credit? Will it give you career-changing footage for your reel? If so, it might be worth it. 
Also, it's important to know the facts & rules when it comes to being a local hire:
1. Just saying you can be a local hire and having some friends/family in that region may not be enough to fully qualify as a "local hire." Productions are going out of state due to the many tax incentives offered there and lower cost of shooting. However, in order to qualify for these incentives, they must hire a certain percentage of local cast & crew. Any many times, for cast, the percentage that 𝒸𝒶𝓃 be out-of-state is reserved for the larger, leading roes. This means that some states will require either a state ID, or a document proving you are resident within a certain number of miles from the shooting location (these requirements differ by state)
2. To maximize your ability to truly be a local hire in these different regions, you'll likely want to get an agent who can specifically see those regional breakdowns. You won't need an agent in each and every city. Many agents cover numerous regions. For example, a Nola agent will cover the entire southeast region.
3. Being non-union could be in your favor, specifically when it comes to working in right-to-work states. What's a right-to-work state? It's a state that allows non-union actors to work union jobs. Give us a 🙌 if you want us to elaborate more on that later. 
4. Many times we need to cast at a moment's notice, especially when a deal falls through. Know that this may mean you'd need to get yourself across the country at the drop of a hat. Make sure you have a plan with your day job & childcare (if you're a parent) so that you don't cause an uproar when you're the choice and are unable to suddenly leave town.
Quick tip on working out-of-country (meaning U.S. to Canada or elsewhere): YES, we do cast out of LA for Vancouver and NY for Toronto. And YES, you'll need a work visa (which isn't as difficult for us to get you nowadays), but it's extremely hard to cast Americans for smaller roles. The reason is actually due to union status. ACTRA (the Canadian union) wants to protect its members just as much as SAG-AFTRA wants to protect you. Thus, the local CDs up north will need to cast a certain percentage of ACTRA performers. And they will need to prove that a smaller role was unable to be found in their region. And sometimes that's hard to prove (not impossible, but not easy either). 
Ok, so you've read it all, you know you can truly be a local hire in different regions, and you're ready to set up your travel Chase card. What now? 
Communicate, communicate, communicate. 
If we don't know that you're 100% willing to be a local hire, you can trust we won't take that chance. Shout your local hire ability from all angles: on your resume, on your website, and most importantly, to your reps. They need to know exactly what you are willing to do and they need to be communicating that with us (and they usually do). 
Next, get those materials in tip-top shape before submitting to regional agencies. You want to make sure you have a solid team behind you no matter what the location. 
And lastly, if you have the ability to get yourself some documents that prove your residency in those areas, even better. 
Most importantly, be intentional and reasonable with your decisions. Do what works best for YOU and you'll find just how quickly that will pay off. 
#themoreyouknow #TheCastingDirectorsCut #mondaymythdebunkers