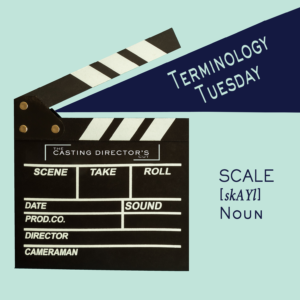 If you were able to grab a spot in last weekend's co-star intensive, you'll know we went over a lot of "scale" numbers.   
Feel free to "save" this one as a quick reference guide 🗳
Scale refers to the minimum amount of pay that SAG-AFTRA will allow its members to work for on a given project. 
Offered on both a daily and weekly scale, SAG rates are often determined by the project type, budget constraints, and distribution plan.  
Scale rates vary from several hundred to several thousand dollars for a daily rate. The biggest determining factor in what scale will be set at in the contract is the type of production.   
Commercial scale rates are dependent on the medium over which the commercial will be broadcast, among other factors, with national television commercials garnering the highest scale rates.   
Note that SAG rates are only enforced by union projects. Most scripted broadcast TV productions and studio films, by way of the Global Rule One, must use SAG contracts. Each year, SAG scale is increased in accordance with the ratified TV/theatrical contracts that are voted on by its union members.   
Currently, as of 7/1/20, the SAG scale TV agreement is as follows (note these rates do not include standard 10% agency/manager commissions. These are always calculated and added into the offer):   
Day player (co-star): $1,030/day
3-Day co-star: $2,609/3 days
Weekly co-star: $3,575/week (for 5 days)
1-hour TOS Guest Star: $9,064 (for 8 days)  
1/2-hour TOS Guest Star: $5,665 (for 5 days)  
These rates are good until 6/30/21, at which point there will be another 3% increase for each contract.   
If you work additional days past these rates, actors will be paid pro-rated days.   
For example, if you work 6 days on a weekly co-star contract, you'll be paid $4,290 ($3,575 ➗ 5 = $715 + $3,575 = $4,290). Yay math!  
Your agent or manager will know the current scale rates, but it's always good to be in the know as well. Especially when you think you're due for a small bump in pay!  🎉
#themoreyouknow #TheCastingDirectorsCut #terminilogytuesday